Recruiting Diverse Talent at Kinetic Communities Consulting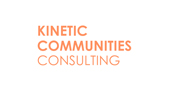 Recruiting Diverse Talent at Kinetic Communities Consulting
Challenge
The number of people of color and other marginalized communities within the energy sector are historically low. Traditional institutions hire individuals from elite institutions which often has a low percentage of people of color enrolled. Furthermore, we believe hiring local people of color and paying them equitable wages can help mitigate gentrification. We are working closely with local organizations, ensuring our job opportunities are not only just a means to an end, but are creating a pathway to a career, building financial independence, and overall success for each prospective employee.
Engagement with marginalized communities can be difficult, especially if they are looking for employment and competing against others who may have had multiple internships already.
Actions
Kinetic Communities Consulting is planning to do direct outreach to marginalized communities by engaging hyper local organizations that provide workforce development services. We are removing all education components as well as prior employer names from resumes to remove unconscious bias from our hiring practices. We believe skillsets are transferable to different work settings. We will be focusing on engaging local people of color and training them on energy and engineering upon hiring. Our work is local, and we believe hiring local will motive employees to feel empowered by the work, helping their neighbors become more efficient.
Outcomes
We piloted this initiative in 2018. Our first hire comes from the healthcare sector. She was engaged through a hyper local organization called Make the Road New York. This organization is traditionally not engaged in the energy sector. We informed their workforce development department on what are the specific skillsets we are looking for. We informed them we are interested and encouraging local minorities to apply to our position. Our employee had experience educating seniors in the healthcare sector on different program opportunities. These skillsets allowed her to be an exceptional consultant. We have trained her on energy efficiency and new technologies.
Contact
Daphany Sanchez: Executive Director
The CEO Action for Inclusion pledge is an opportunity for all companies, large and small to set up systems that will fight against the injustice throughout our nation. It will elevate under resourced communities, providing them with opportunities and helping them motivate others to do the same. As a woman and minority owned business we are proud to set standards to ensure all of my peers have a fair chance to a successful future. Juntos, podemos cambiar al mundo.
Get In Touch
Learn more about what organizations are doing to act on diversity and inclusion.
Contact Us