Women's Leadership Forum National Mentoring Panel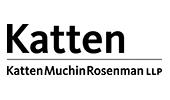 Women's Leadership Forum National Mentoring Panel
Challenge
The firm's women attorneys did not have direct access to female mentors who provide guidance on professional development, work-life balance and other areas regarding navigating the various paths to success at Katten.
Actions
Katten's Women's Leadership Forum (WLF) is committed to the concept that women can and should help women by sharing the benefit of their experience. The WLF National Mentoring Panel was launched in order to ensure that all of our women attorneys have access to good female role models who are willing to provide guidance on professional development, work-life balance and other issues of concern. The panel consists of 13 successful women partners from various offices who are recognized as leaders in their industries, with backgrounds that exemplify the strong character and commitment to achieving success and creating opportunities within their own careers. Some of the mentors are laterals who have held positions in government, industry and/or other firms. Others are "lifers" who have navigated their way through the associate and partner ranks. Some are income partners; others are capital partners. Many serve in leadership positions, including as Executive Committee members, National Compensation Committee members, department chairs and practice group heads. Many have raised families and several have taken advantage of the firm's reduced time and flex-time options. All are happy to share their experiences and serve as sounding boards on issues of concern.
Outcomes
The WLF hosts quarterly panel discussions with members of the National Mentoring Panel that focus on a common mentoring theme. A recent panel featured mentors who shared their experiences with being a working mother while continuing their growth and success at the firm. This discussion has helped the firm's women attorneys get to know the panelists and served as an opportunity for them to identify a specific mentor they can create a relationship with. Since we launched our panel in January 2017, nearly all of our mentors have received mentoring requests from one or more female attorneys. 
Nadira Clarke, a distinguished partner at Katten and a member of the National Mentoring Panel, has shared her experience being a lateral hire and working mother to younger attorneys. She has been a rising star since joining the firm in 2014 and is now Katten's Washington, DC Litigation practice head, member of the firm's Board of Directors and Executive Committee, and was named 2017 Working Mother of the Year by Working Mother Media. As a member of Katten's National Mentoring Panel, Nadira works hard to impact how women get business and are promoted, recognized and compensated. "I understand the challenges of being a working mom so I look for opportunities to promote women to the client, or share tips about balancing work with the challenges of parenthood," she said.
Our Women's Leadership Forum is a built-in resource for women attorneys at the firm. The Forum's National Mentoring Panel helps foster strong relationships that provide ongoing support and encouragement to them no matter where they are in their careers. This is just one way in which Katten has been proactive and creative in addressing issues that many in our industry and others face. We  joined the pledge because it is yet another means of keeping the importance of diversity and inclusion at the forefront of our thinking here. 
Get In Touch
Learn more about what organizations are doing to act on diversity and inclusion.
Contact Us