*as of May 22, 2020
At Perdue Farms, we are focused on the health and safety of our associates, farmers, customers, consumers, communities, and business partners, while at the same time ensuring the continuity of our supply chain during the global COVID-19 pandemic. This pandemic, without question, presents an enormous challenge for Perdue, as well as other businesses and government. Our company has been proud to continue the mission-critical work of providing food for our country as the nation – and the world – grapples with coronavirus.
Supporting our Farm Family Partners
The 2,200+ farm families who raise our chickens and turkey on local farms are a critical part of the food supply chain and to continuing to keep America fed.
At an extremely disruptive time such as the COVID-19 pandemic, the way our contracts with farmers are designed is extremely important. They are designed to help insulate farmers from most of the financial risks associated with raising poultry – including volatile markets – while providing year-round farm income and rewarding top performance.
The trust of our farm partners is also a critical component of our success. Transparency is key to building and maintaining that trust. With that in mind, we have been in constant communication with our farmers regarding our monitoring of COVID-19, providing them information on how they could protect themselves and their families from the virus, sharing what we are doing to protect our associates and appreciation from customers for keeping them supplied with product, a veterinary experts' explanation of coronavirus as it relates chickens and more. We heard from numerous farmers that they appreciated these efforts, including those who said they were "glad they were growing for us". Their flock advisors also provide guidance on how to mitigate the impacts of COVID-19 on the farm and share pertinent updates.
Protecting our Communities by Partnering with Local and State Leaders
Perdue Farms has partnered with state health and agriculture officials to support their rigorous testing and education efforts that are intended to keep our associates, and the broader communities in which we operate, safe from COVID-19, with the ultimate goal of flattening the curve of illnesses. We recognize that successfully fighting this pandemic is a community-wide approach, and we are in a position to assist our local and state leaders by offering public testing sites and helping them communicate to our associates and their families.
The COVID-19 crisis is an unprecedented challenge for businesses and government alike, and Perdue Farms remains committed to partnering with public leaders to protect our associates and neighbors.
Delivering Hope to Our Neighbors (photos from Daviess Community Hospital)
Perdue Farms committed to donate a minimum of one million pounds of protein — or four million servings — to support communities where we conduct business in response to the COVID-19 pandemic, as part of Perdue's "Delivering Hope To Our Neighbors" hunger relief initiative.
We have already directed more than 400,000 pounds of nutritious protein to Feeding America-affiliated food banks since March 1, including in communities in California, Delaware, Georgia, Kentucky, Maryland, North Carolina, Pennsylvania and Virginia.
Product donations were directed to help frontline healthcare workers and first responders. For example, we delivered chicken products to hospitals in Milford and Dover, Delaware, to help feed more than 4,000 frontline healthcare workers. In Washington, Indiana, we partnered with Daviess Community Hospital to provide chicken and turkey products to their entire staff via a makeshift drive-thru. Read more here.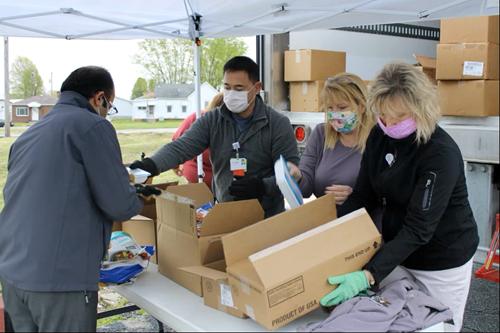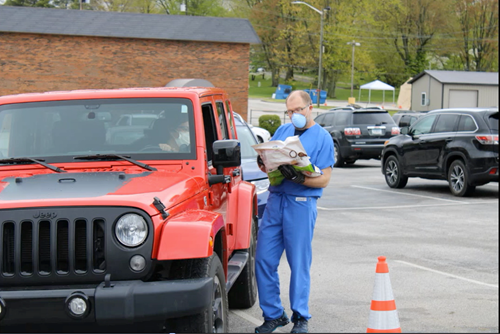 Supporting Our Hometown Community Needs
Perdue Farms, through the Franklin P. and Arthur W. Perdue Foundation, has donated $50,000 to support emergency COVID-19 pandemic relief efforts in the communities where we have operations.
The United Way of the Lower Eastern Shore (UWLES) and the Community Foundation of the Eastern Shore (CFED) received $40,000 in light of the COVID-19 virus and its impacts in and around Perdue's hometown community on Maryland's Eastern Shore. CFES and the UWLES are supporting immediate and long-term relief efforts in their communities. These resources will help ensure critical programs and services—including hunger relief, transitional housing, housing assistance, medical services and more—can be fulfilled during a time of increased need. Read more here.
America's Second Harvest of Coastal Georgia received $10,000 to feed individuals, families and seniors struggling during the virus. The food bank will use the funds to help feed 6,500 individuals through its Mobile Pantry Program, which is designed to provide emergency food relief to rural residents who struggle to have enough to eat. Within the food bank's 21-county service area, one in six people struggles with hunger, including one in five children. Read more here.
Providing Our Communities Accessible and Affordable Food
The COVID-19 pandemic disrupted the food supply chain in numerous ways, none more apparent than at the grocery store. Consumers across the country have been greeted by empty shelves in the meat department, especially in the poultry section. In recognition of the challenges this presented in the communities where we operate, Perdue Farms held "Chicken Trailer Sales" where we provided consumers chicken products at affordable prices. The sales were held in partnership with local small businesses and organizations such as a volunteer fire department, which used it to replace a critical fundraising event that was cancelled due to the pandemic.
Thanking the Unseen People Who Feed America 
We replaced a previously planned national product-focused tv ad campaign with messages from chairman Jim Perdue expressing his thanks to "folks who are rarely seen, even more rarely thanked, yet they're always there when we need them the most."
View our COVID-19 updates here.