Union Pacific is stepping up to support employees and community organizations responding to the pandemic's needs, providing funding to Friend to Friend Network and the GivePLUS Matching Gifts program to help those affected by COVID-19.
Friend to Friend Network, a nonprofit organization run by employee-volunteers and retirees, helps active and retired railroaders, and their families, who have been impacted by health or dwelling-related hardships. A $500,000 donation from UP allows Friend to Friend Network to expand its support to include employees furloughed due to the business impact of COVID-19 and facing those same hardships.
UP also is helping employees stretch their community donations further. Effective March 1 through the end of the year, the railroad is increasing its match to two-to-one on gifts to local food banks or hospitals with a 501(c)3 designation through its GivePLUS Matching Gifts program. Gifts entered prior to April 27 will be matched automatically; employees entering new gifts should select "COVID-19 (2:1) Match" when checking out.
"We've all seen the news coverage of miles-long lines in communities where cars are waiting at food banks – the need is real, and it is now," said Scott Moore, senior vice president-Corporate Relations and chief administrative officer, and Union Pacific Foundation president. "We encourage our employees to be involved in the communities where they live and work, and we want to help make a difference."
At the same time, the railroad's board of directors increased funding to UP's Community Ties Giving Program to address critical needs associated with the COVID-19 pandemic. During this unprecedented time, an additional $5 million investment will be distributed in local grants to nonprofit organizations where funding will directly benefit communities served by UP.
Supporting the Communities UP serves
Employee Club 66 members may not be able to distribute groceries to Texans in need as they normally do because of social distancing guidelines, but their dedication to serve remains stronger than ever.
"We care about our local community and are passionate about doing everything we can to help," said Lonzo Nelson, locomotive engineer and Employee Club 66 member. 
Nelson works the extra board and his schedule varies weekly; however, he doesn't let his work responsibilities prevent him from volunteering, picking up donation baskets or loading vehicles at the Salvation Army.
"Don't get me wrong, it can be exhausting work, but I truly can't think of a better way to spend my time off when I am able," Nelson said. "There have even been times where I've packed work clothes with me so that I can report to work immediately after volunteering."
As the San Antonio Salvation Army Command's 2019 Volunteer of the Year, Charlotte Featherling has also devoted a large portion of her life to assisting low-income families by donating her time to charitable organizations and rallying her peers. Whether she's loading shopping carts with dry goods to be sorted for donation or arranging bicycles for the annual Angel Tree Toy Drive, she has become an essential supporter who's always willing to lend a hand.
"I try to help out as much as I can because I want to be actively involved in the community," Featherling said. "I've been able to engage in a lot of meaningful projects as an Employee Club 66 member, and it's something I can always look forward to doing."
Featherling joined the club in 2006 with her husband, Gary, a retired South Texas carman.
Not being able to volunteer and interact with community members over the past few weeks has been a strange feeling for her, but she appreciates the measures the Salvation Army is taking to ensure everyone's safety.
"The safety-first mentality Union Pacific embodies is relevant now more than ever," Featherling said. "Fortunately, the organizations we work with have done a great job adapting to everything that's going on."
The Salvation Army is now offering a drive-thru service for their clients to use when picking up essential food items, requiring their staff to practice social distancing and directly delivering items to seniors.
With more than 919,500 people relying on the Salvation Army's 84 centers for food, housing and utilities in Texas alone, continuing to provide resources has been vital.
Monetary donations are still the most effective way for the organization to keep fulfilling its mission, but spreading the word about the cause and offering support are just as important.
"Employee Club 66 members all have a shirt that says, 'Volunteers don't necessarily have the time; they just have the heart,' and I think that's representative of who we are," Featherling said.
Club members recently arranged a video conference call to continue building camaraderie and plan for future opportunities.
"We look forward to getting back in the swing of things and giving back as soon as we can," Nelson said.
Serving Communities One Meal Kit at a Time
The Public Affairs team is already deeply involved in the communities Union Pacific serves. Almost overnight, they saw the communities' needs change.
"Each of us were asked to think about where we could make a difference in our territories and communities," said Richard Zientek, senior director-Public Affairs, Corporate Relations. "Since volunteering is suspended in most locations across the country, we diverted money from our community relations budgets typically used for now-cancelled events and activities, and instead made donations to our local food banks and the Salvation Army."
So far, the Southern Region team has donated to 11 different organizations in Arkansas, Kansas, Louisiana, Missouri and Texas, with other donations pending through May. Even small donation amounts have big impacts on the communities.
A $2,000 donation to the North Texas Food Bank (NTFB) is already at work. NTFB's mobile pantry distributions served an average of 300 households pre-pandemic. Distributions recently have surged from serving 1,000 to almost 2,000 households.
"A week ago we distributed 6,300 family meal boxes and ran out with hundreds of cars still in line," said Ashley VandenBush, account manager-Corporate Giving, NTFB. "Our mobile units are being deployed daily, and it feels like it's still not enough."
As demand for services continues to rise, NTFB formally requested support from the National Guard to help safely and efficiently facilitate critical food distribution. National Guard support provided the NTFB the ability to make 60,000 family meal kits.
"I appreciate that our money stays local," Zientek said. "It's good to know our donations are making a difference and helping the communities we serve."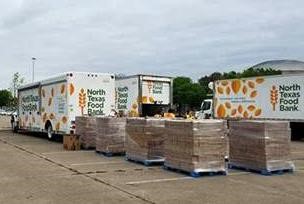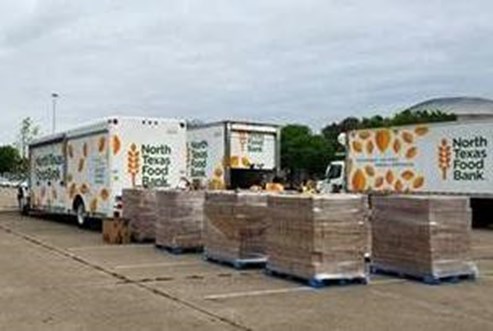 With school closures, job disruptions and health risks, millions of Americans are turning to food banks for necessary support. Working with government leaders to ensure emergency response includes support for federal nutrition programs, and launching the COVID-19 Response Fund, a national food- and fundraising effort supporting people facing hunger, Feeding America is doing what they do best: feeding people in need – locally.
Employees are reminded that effective March 1 through the end of the year, the railroad increased its match to two-to-one on gifts to local food banks or hospitals with a 501(c)3 designation through its GivePLUS Matching Gifts program. Gifts entered prior to April 27 will be matched automatically; employees entering new gifts should select "COVID-19 (2:1) Match" when checking out.
Fueling First Responders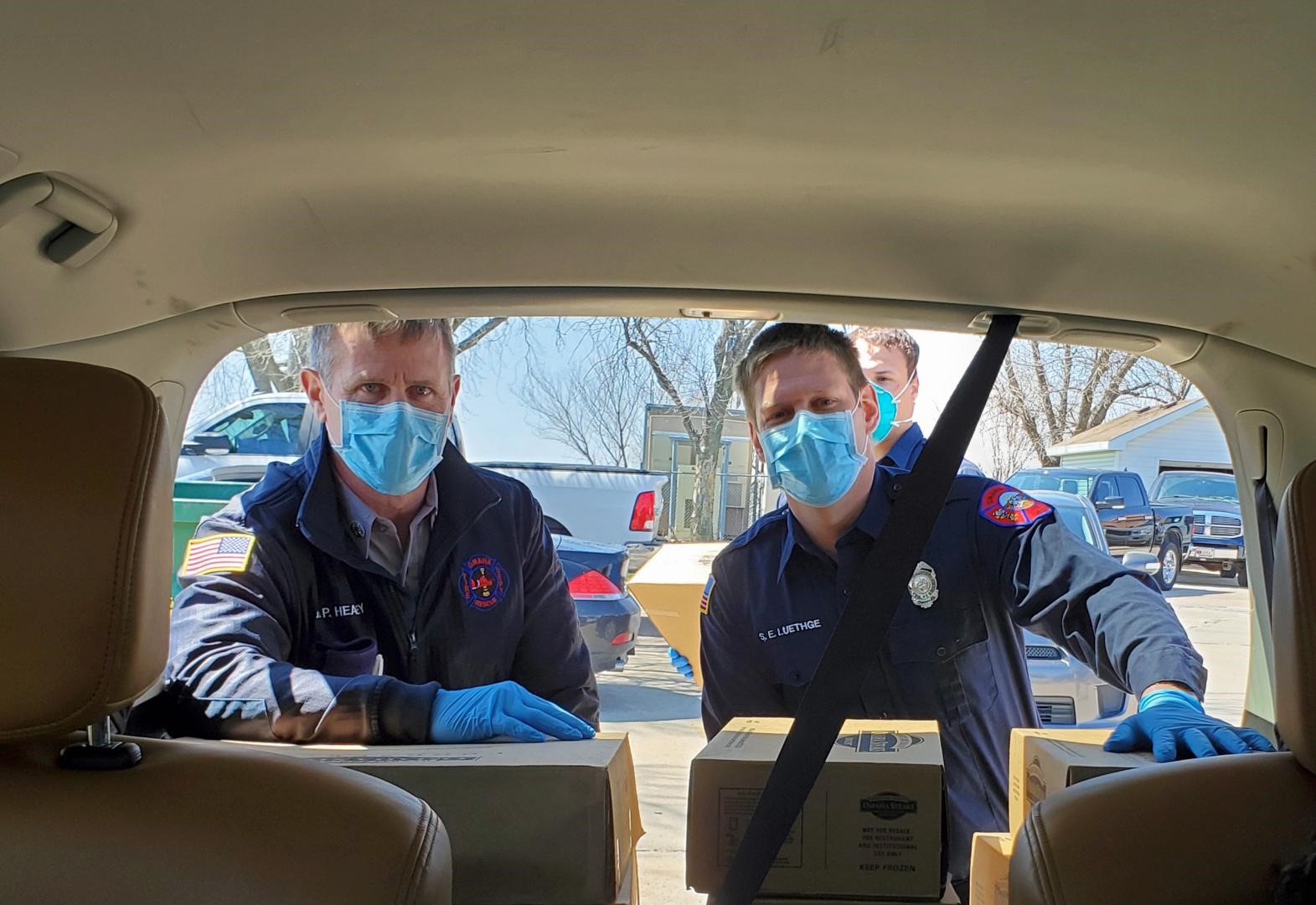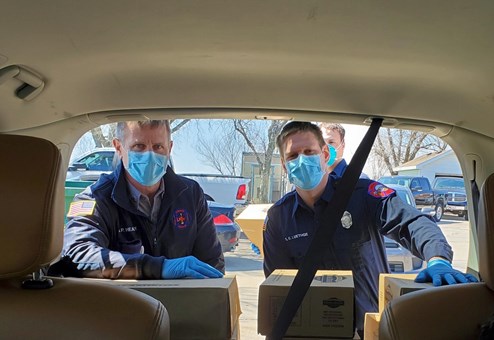 Members of UP Ties, one of Union Pacific's nine ERGS, partnered with Omaha Steaks and delivered more than 1,000 pounds of ground beef and 50 boxes of pork chops to 25 Omaha-area fire stations. The opportunity came through UP Ties annual charity partner, First Responders Foundation. The donated meat will help feed Omaha first responders as they help protect the community against the spread of COVID-19.