Supplier Diversity at Kinetic Communities Consulting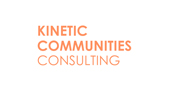 Supplier Diversity at Kinetic Communities Consulting
Challenge
There are many benefits to local supplier diversity. By buying local, you are supporting organizations that are more likely to support other organizations with the local environment, which keeps the local economy strong. Furthermore, local supplier diversity allows organizations to reduce their environmental impact. By using local-diverse suppliers, you can acquire services and products that have less transpiration, therefore there are less greenhouse gas emissions in the air. Working with local diverse suppliers also helps organizations invest in the community. Local suppliers hire locally and provide great services to the community. When engaging local suppliers, you can focus on elevating local prosperity. Due to technology, companies tend to focus their investment on comfort and convenience, thus eliminating the search of local diverse suppliers.
Actions
Kinetic Communities Consulting has developed a partnership, services & product policies to ensure we can maintain our integrity with supplier diversity. This policy was created to help us partner with individuals who are aligned to our vision of a social energy equitable future. We hope all prospective partners are able to abide by these policies and move forward looking for strategic socially just partners. We share our policy's questions with prospective partners.
Questions include location, local hiring percentage, minority and women hiring percentage, alignment to Jimenez Principles, alignment to Kinetic Communities mission, and ownership. Upon receipt of answers, our team scores them. If the score is less than 20 points out of 40, then additional questions will be requested. Kinetic Communities would like to make sure every decision is a just one to our local environment.
Outcomes
We have used this for services such as our IT provider, our office materials supplier, and our graphic designer. This methodology has provided an opportunity for other businesses to enter a dialog on just engagement with potential clients and customers. We would like to integrate a re-engagement survey to obtain feedback on our partners' progress.
Contact
Daphany Sanchez: Executive Director
The CEO Action for Inclusion pledge is an opportunity for all companies, large and small to set up systems that will fight against the injustice throughout our nation. It will elevate under resourced communities, providing them with opportunities and helping them motivate others to do the same. As a woman and minority owned business we are proud to set standards to ensure all of my peers have a fair chance to a successful future. Juntos, podemos cambiar al mundo.
Get In Touch
Learn more about what organizations are doing to act on diversity and inclusion.
Contact Us