Racial Justice in Catholic Higher Education Dialogue Series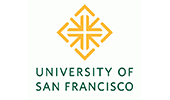 Racial Justice in Catholic Higher Education Dialogue Series
Challenge
As a Jesuit Catholic university, we recognized that some of our faculty and staff were eager to engage more deeply in understanding the complex relationship between the Catholic Church and race, particularly given the national climate and the social justice initiatives of Pope Francis.
Actions
At the University of San Francisco (USF), one of the most diverse universities in the nation, we held a six-week dialogue series in Spring 2017, co-sponsored by the office of Diversity Engagement and Community Outreach, the university library, Human Resources, and University Ministry, with funding provided by the Jesuit on-campus community. The series explored diversity and inclusion and what these mean in the context of Catholic higher education. The series was based on the book Racial Justice and the Catholic Church (Orbis, 2010) by Prof. Bryan Massingale, and was co­-facilitated by Dr. Ursula Aldana and Dr. Jane Bleasdale, Assistant Professors in the Catholic Education Leadership Program in our School of Education. Using readings and activities to explore the Catholic Church's response to racial injustice and to identify how systemic racism can affect campus climate, these dialogues enabled faculty and staff participants to increase their capacity to foster a campus climate of inclusive excellence.
Outcomes
Approximately 20 staff and faculty members engaged in difficult but meaningful discussions about the unique resources in the Catholic tradition to confront racism and foster respect and inclusion, and what the implications of that relationship are for bettering our campus climate. The members of this group were key participants in over 40 discussions that took place in units across campus this past academic year, during which all employees were asked to reflect upon how their unit was helping USF fulfill its mission to educate a diverse student population for leadership in a complex world.
We celebrate the way we start with diversity and weave that into a community of inclusive excellence. We have this marvelous opportunity to come together to form a community which is not only life-giving to the diverse members of its community, but also serves as a lighthouse, as a model, as a sign of what every human community should look like.
Get In Touch
Learn more about what organizations are doing to act on diversity and inclusion.
Contact Us