*as of May 22, 2020
At Perdue Farms, we are focused on the health and safety of our associates, farmers, customers, consumers, communities, and business partners, while at the same time ensuring the continuity of our supply chain during the global COVID-19 pandemic. This pandemic, without question, presents an enormous challenge for Perdue, as well as other businesses and government.  Our company has been proud to continue the mission-critical work of providing food for our country as the nation – and the world – grapples with coronavirus.
The Health and Well-Being of Our Associates Is Our Top Priority
As a 100-year old company we have always known our associates are frontline heroes in America's food supply chain. As they remain dedicated to their essential roles to help keep our nation fed, we remain committed to supporting and protecting them.
As we keep our doors open for this critical work, Perdue Farms wants to be the leading example of what a safe workplace looks like. We are supplying masks and protective gear to our associates and government inspectors in our plants, as well as any essential personnel who enters any of our facilities; we have extended the hours of our onsite Wellness Centers, which are always available free of charge to our associates and their families.  Dependents of associates who are unable to visit a Wellness Center can talk directly with a doctor by using telehealth services that are available through Perdue's healthcare provider at no cost. Additionally, family members have access to the company's Employee Assistance Program which provides a variety of confidential services including professional counselors and work/life specialists 24 hours a day, 7 days a week. we have increased our already-stringent cleaning and sanitation protocols; and we are physically altering our production plants and running at reduced speeds to facilitate social distancing; in addition to many other steps we've put in place.
In order to alleviate stress for our associates in an already stressful time we have taken a number of steps to further assist our Associates including increased compensation and flexible leave policies. For example:
We waived the 5-day waiting period for short-term disability for any associate who contracts COVID-19, so that he or she can receive immediate benefits.
All hourly associates received a $1-per-hour pay raise
We fully funded our annual profit-sharing Associate Bonus Program and paid it to eligible associates two months early.
Because this pandemic has caused many of our associates to cancel their vacation or personal time off (PTO), we temporarily removed the PTO accrual maximum for all associates. This will allow them to continue accruing PTO weekly/biweekly past the maximum amount.
We are providing our production associates with chicken products to take home for themselves and their families.
Fostering Diversity, Inclusion and Understanding Amongst Our Associates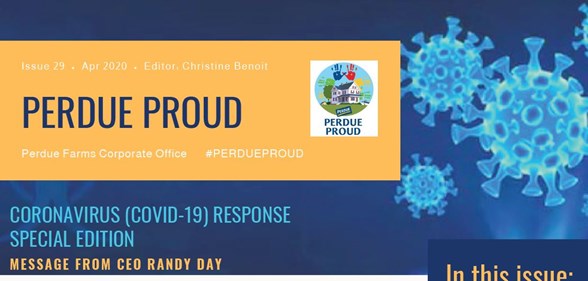 Frank Perdue always said, "if you take care of your people first, they will take care of the business". This philosophy permeates every aspect of Perdue Farms and has guided us in our multi-faceted approach to ensuring the health and wellbeing of our associates. We recognize that COVID-19 has presented us with a unique opportunity to reinforce our belonging and connection to one another. With the dedication and support of our CEO Randy Day, we are keeping Diversity and Inclusion on the table by leveraging our Employee Assistance program, introducing a new Diversity and Inclusion campaign focused on monthly outreach to our plants, and are engaging with our work-from-associates through our monthly associate newsletter, #PerdueProud.
Since the beginning of the pandemic we have used the newsletter to share timely information with our newly remote associates to foster a sense of belonging and connection while helping them to adjust and adapt to a pandemic inspired "new normal."
We created a special COVID-19 edition of the newsletter dedicated solely to supporting and communicating with our associates about all the resources available to them as we collectively managed our way through the once-in-a-lifetime crisis. It included a message from our CEO Randy Day, a preparedness checklist, information on health care resources, and ways they could support their local communities. Our Perdue Organization for Women Associate Resource Group (POW ARG) wrote an article with tips on working from home, balancing work vs. life and parenting during the pandemic.
The May issue followed up with an excerpt from Forbes magazine called "5 Things To Know About Coronavirus and People With Disabilities" provided by our Disabled Associates and Family Members ARG, to educate associates about the potential impacts of COVID-19 on people with disabilities.
To further support our associates working remotely, we have offered dozens of classes to keep them connected and lessen feelings of isolation. Some of the classes were centered around COVID-19 specific tops including establishing emotional balance during the pandemic and educating associates about the virus itself. Additional classes focused on providing leaders with guidance on engaging remote workers.
View our COVID-19 updates here.