MiLB FIELD (Fostering Inclusion Through Education and Leadership Development) Program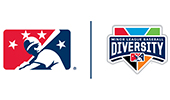 MiLB FIELD (Fostering Inclusion Through Education and Leadership Development) Program
Challenge
Minor League Baseball recognizes the underrepresentation of women and minorities within management among our teams and leagues. As we look to advocate for the diversification of the game and business of baseball, the MiLB FIELD Program engages women and minorities and directly impacts the talent pipeline for the industry.
Actions
Minor League Baseball's FIELD (Fostering Inclusion through Education and Leadership Development) Program was created under the Minor League Baseball Diversity Initiative to engage the next generation of diverse leaders in sports business. The FIELD Program combines educational and leadership development with skill-specific training from Major League Baseball and Minor League Baseball office executives and club representatives. Within the five-day period, participants are introduced to the game and business of baseball through educational workshops, sales training and gameday preparation exercises. The participants are also tasked with creating relevant and timely gameday promotions centered on diversity and inclusion which will be considered for implementation in the upcoming season.
The FIELD Program assists its participants in breaking into the world of professional baseball by providing them the opportunity to attend the Baseball Winter Meetings, the largest gathering of baseball executives in the country. The event includes a job fair, which seeks to fill over 500 positions within the baseball industry. The FIELD Program also grants participants continued access to a vast network of sports professionals and mentorship opportunities with Minor League Baseball executives.
Outcomes
Of the inaugural FIELD class, 23 of the 25 students attended the 2016 Baseball Winter Meetings in National Harbor, Maryland. Students participated in 60 interviews, and seven have accepted a position with Minor League Baseball or Major League Baseball. On August 7-11, 2017, the annual program returns for its second installment, welcoming 29 students from 19 universities across the country. This group of students will also learn the business of baseball, attend the 2017 Baseball Winter Meetings in Orlando, Florida, and look to begin their careers in baseball.
As the focus on diversity and inclusion in sports grows, Minor League Baseball has taken progressive steps to increase awareness, identify areas of improvement and strategically advance and sustain our efforts. Furthermore, we strive to create a professional and entertainment environment that can be enjoyed by all members of our communities regardless of age, gender, race, ethnicity, ability, sexual orientation or background. In all my years as a sports executive, there has never been a bigger threat to our industry than not successfully embracing the diversification of our sport. As my career winds down, I have committed to preparing our organization for the future by making diversity a top priority.
Get In Touch
Learn more about what organizations are doing to act on diversity and inclusion.
Contact Us