KPMG Women's Leadership Summit and KPMG Future Leaders Program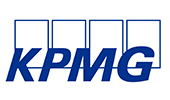 KPMG Women's Leadership Summit and KPMG Future Leaders Program
Challenge
More than half of all management, professional and related occupations are held by women, yet females account for only 5 percent of the CEOs of S&P 500 companies today. KPMG is committed to increasing the number of women leaders within our organization and the broader marketplace. As part of that mission, it is critical to develop and inspire the next generation of rising women, and to pay it forward to future generations.
Actions
In 2015, the annual KPMG Women's Leadership Summit was established to move more women into C-suite positions by providing content, tools and networking to encourage advancement. The Summit convenes highly accomplished leaders representing many fields and industries to share strategies, insights and lessons learned with the next generation of women leaders nominated by their CEOs to attend.
The next-generation women leaders that attend the KPMG Women's Leadership Summit participate in subsequent yearlong programming, coming together in smaller groups for additional networking and skill building. 
Additionally, the KPMG Future Leaders Program, an ongoing charitable initiative to inspire and develop new generations of women leaders, launched in 2016.
The KPMG Future Leaders Program affords top female high school seniors across the country the opportunity to enhance their personal growth through college scholarships, a leadership development retreat at Stanford University, a mentoring relationship with a woman business leader from the KPMG Women's Leadership Summit, and an introduction to golf. Dr. Condoleezza Rice serves as the KPMG Future Leaders Program ambassador.
Outcomes
The KPMG Women's Leadership Summit continues to bring together a remarkable group of leaders to share their perspectives on how women can move forward with great confidence and resolve. The 2017 Summit included representation from more than 50 Fortune 1000 companies, and 66th U.S. Secretary of State Condoleezza Rice and IBM Chairman, President and CEO Ginni Rometty served as keynote speakers.
In its second year, the KPMG Future Leaders Program expanded its reach to offer 20 college scholarships for its 2017 class.
Inclusion and diversity are an intrinsic part of who we are and we are committed to ensuring that our inclusive culture remains in place so that all of our people have the opportunity to succeed and achieve their full potential. This cultivates an environment of dialogue and action, spurs innovation, and empowers our talent to drive quality for the capital markets, our clients and in our communities.
Get In Touch
Learn more about what organizations are doing to act on diversity and inclusion.
Contact Us