Increased Representation of Women on Board and Staff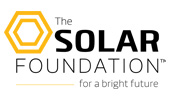 Increased Representation of Women on Board and Staff
Challenge
The Solar Foundation recognized that it had issues with representation of women on the board and on staff.
Actions
In 2012, The Solar Foundation's five-member Board of Directors was composed entirely of men, and all staff (excluding the Executive Director) were men as well. Recognizing this gender disparity, The Solar Foundation made positive steps to recruit a more diverse Board and team.
Active outreach to women leaders in the clean energy space helped to improve representation on the TSF Board, and emphasizing diversity in hiring and to voluntarily abide by federal anti-discrimination laws in hiring (as the organization was small enough at the time to not be required to follow these rules).
Outcomes
Due to these changes, 40% of the TSF Board of Directors, along with the Board Chair, are women. In addition, 40% of staff are women. TSF is in the process of adopting additional policy changes to further promote gender diversity, as well as diversity among other groups.
In 2017, we released the first comprehensive report on diversity and inclusion in the U.S. solar workforce. What we found was that like other energy sectors, the solar industry has a long way to go in order to provide equal opportunities for women, people of color, LGBTQ people, and veterans. As a mission-driven nonprofit, it's our responsibility to set the same standards for our organization as we do for the solar industry. That's why we've made a commitment to diversity and inclusion within our board, leadership team, and staff, which will strengthen the organization and help us better reflect the communities we serve.
Get In Touch
Learn more about what organizations are doing to act on diversity and inclusion.
Contact Us