Published on May 19, 2020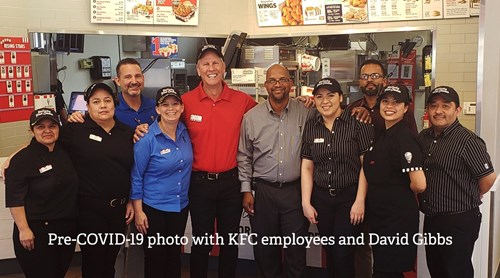 Looking back, few of us could have imagined the challenges we would face as a result of COVID-19. I feel fortunate to work in a company where our teams around the world came together rapidly to take care of each other, our customers and our communities in big and small ways. As we reacted to the crisis, we brought together a very diverse set of leaders and franchisees with different expertise and perspectives. Out of this necessary collaboration came innovative new safety measures, operational procedures and technologies to serve our customers in a safe, low-contact environment. When all voices and ideas are at the table, you get better and more novel solutions than you can on your own or without constructive dialogue.
As we navigate the road ahead, it is important that none of us forget how truly connected we all are and the valuable role that inclusive leadership, diverse communities, frontline workers and those most impacted by COVID-19 will play in a successful recovery.
Upcoming celebrations like the World Day for Cultural Diversity for Dialogue and Development and LGBTQ Pride Month serve as reminders of our shared humanity and how important it is to foster dialogue, diversity and inclusion in our teams.
We're making progress on this at Yum! with each corporate employee around the world, including me, elevating our accountability to diversity and inclusion with a formal commitment in our annual goal-setting and performance reviews. At the same time, we continue our public commitments to increase representation of women and under-represented minorities across our global system. In line with Paradigm for Parity's goal to advance women to senior roles and achieve gender parity in leadership globally by 2030, 44% of our global leadership positions are now held by women, making more progress in two years than the previous 10. In addition, promoting under-represented minority talent into U.S.-based leadership positions remains a priority as evidenced by our signing of We Are All Human's Hispanic Promise and our connection with CEO Action for Diversity and Inclusion.
Within our communities and across KFC, Pizza Hut, Taco Bell and The Habit Burger Grill, I'm eager to see us continue leveraging the diversity of our unique backgrounds, experiences and insights to help each other and strengthen our future as a Yum! family. And I'm especially looking forward to more celebratory moments in the future like the one captured in this picture taken before the COVID-19 pandemic.
#InThisTogether