First D&I Summit Brings Land O'Lakes employees together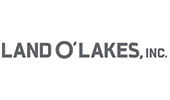 First D&I Summit Brings Land O'Lakes employees together
Challenge
Our leaders recognized the need for a company-wide Diversity and Inclusion internal initiative – for all Land O'Lakes employees - headquarters and remote colleagues too.
Actions
The first Diversity and Inclusion Summit was hosted on August 22, 2018. All seven employee resource groups were present and recruited new members. A diverse panel of Land O'Lakes leadership spoke about their experiences in diversity – ranging from living in a foreign country, to what it's like to be a working mom in the workplace, to what it's like being an immigrant in America. The program also included a one-man play, written and performed by Michael Fosberg called Incognito, which explores his journey toward understanding his racial identity.
Outcomes
Around 325 people attended the summit in person and 164 participated remotely. It was standing room only, and the high volume of call-ins indicates that remote, sales and facilities employees had an interest in learning more about diversity and inclusion. This was also the first event at Land O'Lakes that was co-hosted by all of our ERGs.
Working together and including diverse voices and ideas is rooted in Land O'Lakes' history as a cooperative. Our employees and our members need to always feel heard and valued for who they are, and that's why I am proud to sign the CEO Action for Diversity and Inclusion pledge.
Get In Touch
Learn more about what organizations are doing to act on diversity and inclusion.
Contact Us