Employee-led Diversity and Inclusion Team Alignment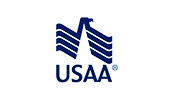 Employee-led Diversity and Inclusion Team Alignment
Challenge
USAA's Chief Diversity Officer saw the need to align employee-led Diversity and Inclusion
(D&I) teams across the enterprise to focus their activities and programs on "attract, retain, educate" imperatives that foster a diverse and inclusive workforce.
Actions
USAA's employee-led teams consist of eight D&I Business Groups (DB Gs) that are networks and resources for underrepresented populations and promote an inclusive, engaged workforce. There also are business-led teams aligned to functional areas and regional offices. Each DBG now has the same core roles and responsibilities and are better aligned to the businesses so USAA's D&I programs and initiatives are more effective and scalable.
Attract - USAA' s Diversity Office is leveraging these teams to identify diverse talent and support recruiting efforts in the communities we serve. There is greater outreach to potential candidate pools such as professional organizations; schools and associations that represent diverse groups. Specifically, the teams are partnering with USAA's talent acquisition teams and acting as ambassadors for recruiting.
Retain - Efforts by our employee-led DBGs help ensure all employees feel valued and respected. The DBGs also identify and mentor a pipeline of diverse leaders. By providing opportunities such as mentorship panels, focus groups and social events, the teams complement other company efforts for engagement, career growth and retention.
Educate - D&I teams are educating employees to increase engagement beyond core D&I training offerings. They are using guest speakers, hosting panel discussions and heritage month celebrations, and manning information booths to provide education on unique challenges, cultural differences, unconscious bias and different perspectives. Additionally, these teams participate in community events to educate the public on USAA's support of diversity and inclusion.
Outcomes
The alignment ofUSAA's employee-led D&I teams has directly affected USAA's efforts toward recruitment, retention and employee development and has enhanced our brand as an employer of choice for diverse talent.
One of the best ways to have an inclusive environment is to give employees opportunities to speak up and get involved. The Diversity and Inclusion Business Groups empower employees, especially those in underrepresented groups, to shape how we think, act and embrace diversity as individuals and as a company.
Get In Touch
Learn more about what organizations are doing to act on diversity and inclusion.
Contact Us