D&I Awareness Training & Unconscious Bias Training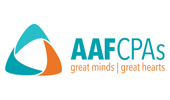 D&I Awareness Training & Unconscious Bias Training
Challenge
As we continue to grow, hire new team members, and engage new clients, we must continue to understand the needs and values of our diverse workforce and our client base.
Actions
Our Diversity Initiative includes ongoing data gathering, surveys, roundtables, staff forums, and annual awareness training. All AAFCPAs team members participate in innovative, implementation-focused Diversity & Inclusion Awareness training & Unconscious Bias training. We believe that talking and training alone will not bring about change. Therefore, all team members commit to be aware of their conscious and unconscious biases and to change practices and processes as appropriate.
Outcomes
D&I Awareness Training & Unconscious Bias training are the first step in creating AWARENESS. Our team members are more alert and aware of behavior that may make others uncomfortable or offended, and know that the firm expects employees of all levels to eliminate bias and prejudice. In our Unconscious Bias training, team members candidly shared with the group some of their unconscious bias, and committed to be conscious, adjust automatic patterns of thinking, and eliminate discriminatory behaviors.
Even the word 'diversity' can be interpreted as divisive. Perhaps the preferred word is 'equality.' That's what we seek wholeheartedly.
Get In Touch
Learn more about what organizations are doing to act on diversity and inclusion.
Contact Us