A Holistic Approach to Community College Transfer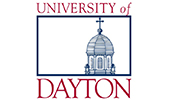 A Holistic Approach to Community College Transfer
Challenge
Community college students can face barriers to a bachelor's degree — including uncertainty about which classes will transfer to a four-year campus and questions about costs.
Actions
The University of Dayton partnered with Sinclair Community College to create the UD Sinclair Academy to provide students a seamless academic pathway with transparent costs, and support and include them on both campuses from day one.
Too often, community college students don't complete a four-year degree because they're uncertain about the price and they face unexpected expenses along the way. The academy changes that by removing financial barriers and communicating with students about the entire cost of their degree from the beginning so there are no surprises. While academy students are enrolled at Sinclair, UD locks in tuition for their junior and senior years and guarantees their financial aid. The university sends them personalized financial aid letters that detail their net tuition and project their housing and personal expenses. Academy students can receive up to $21,500 in merit scholarships, a $2,000 textbook scholarship, and a $3,000 study-abroad scholarship in addition to need-based grants funded by the university as well as federal and state governments.
Another challenge for students is they sometimes feel they missed out on the chance to experience life on a university campus designed for four years of residential learning. The academy addresses this by giving students access to UD facilities and programs while they're taking classes at Sinclair. They can attend UD athletic events, join any of UD's 270 student organizations, visit the library and recreation facility, and take advantage of peer mentoring. They also have academic advisors on both campuses.
The academy also ensures academic pathways are clear. There are articulation agreements in more than 50 majors from every academic division.
Outcomes
The academy is opening doors for students from various racial, ethnic, and socio-economic backgrounds, including many first-generation college students. The first academy student graduated from UD in May.
Get In Touch
Learn more about what organizations are doing to act on diversity and inclusion.
Contact Us