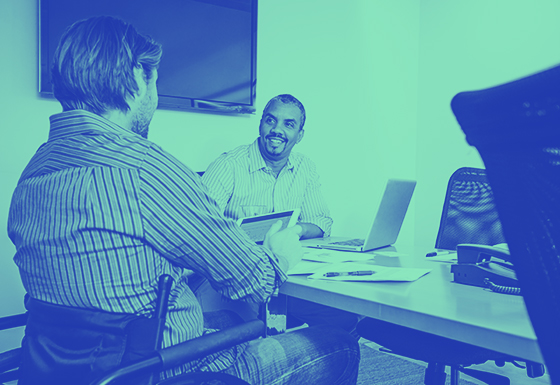 We live in a world of complex tensions that can have significant impact on our communities. But when we come to work – the place where we spend the majority of our time – we often don't openly address these topics.
18%
17.9% of persons with a disability were employed.2
21
million men and women were veterans.3
19%
18.8% of Americans ages 65 and older – nearly 9 million people – are employed full- or part-time.4
What we're doing
The CEO Action for Diversity & Inclusion™ is the largest CEO-driven business commitment to advance diversity and inclusion within the workplace. This commitment is driven by a realization that addressing diversity and inclusion is not a competitive issue, but a societal issue. CEOs recognize that change starts with them. With more than 150 CEOs of the world's leading companies and business organizations, our goal is to leverage our individual and collective voices to advance diversity and inclusion in the workplace.
Our ambition
Our goal is to rally the business community together to take measureable action in advancing diversity and inclusion in the workplace. Companies recognize that signing the pledge is the first of many important steps toward meaningful change. Contributing to and learning from the database of diversity and inclusion actions is another. In Fall 2017, we will hold a CEO Action for Diversity & Inclusion™ Summit to discuss best practices and learnings, develop additional commitments and welcome new signatories. With businesses anchored in almost every community across America, we have the opportunity—and responsibility—to play a meaningful role in such an important societal issue.
CEO Action for Diversity & Inclusion™ signatories are committed to building productive, diverse and inclusive workplaces.
Get In Touch
Learn more about what companies are doing to act on diversity and inclusion.
Contact us