Kick Off of "Check Your Blind Spots" Campus Tour
CEO Action for Diversity & Inclusion™ Kicks Off "Check Your Blind Spots" Campus Tour
October 17, 2017
PA, MA, OH, NY
On Oct. 17, CEO Action for Diversity & Inclusion™ launched the "Check Your Blind Spots" campus tour. Visiting five campuses in its first leg, the mobile tour provided students with an interactive and engaging experience about the concept of unconscious bias, or "blind spots."
Students and faculty who visited the mobile tour had the opportunity to participate in a blind spots educational video experience, implicit association test and educational content, which included a list of what common potential blind spots are and actions they can take to help address them.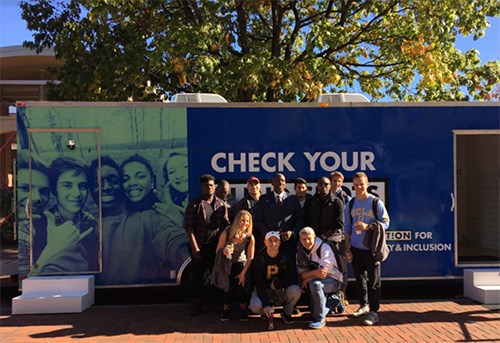 Engaging with more than 2,400 people, the mobile tour made stops at Villanova University, Bentley University, Miami University (Ohio), Binghamton University and The Pennsylvania State University. Watch a recap of the mobile campus tour.
If you would like your school to be considered for a future tour stop, please email [email protected].