Inaugural Closed-Door Session Hosts 70 CEOs and Presidents
Inaugural Closed-Door Session Hosts 70 CEOs and Presidents
November 10, 2017
New York, NY
Guided by the recognition that addressing the challenges of diversity and inclusion is a responsibility larger than any single company or individual, 70 leading corporate, academic and nonprofit CEOs and Presidents gathered on Nov. 10 in New York City for the CEO Action for Diversity & Inclusion™ inaugural closed-door session.
Rooted in mutual values around the advancement of diversity and inclusion, CEOs leveraged the opportunity to learn from the one another's perspectives and experiences while also discussing key issues around gender, race and measuring impact. As part of the closed-door discussion, CEO Action for Diversity & Inclusion™ also announced the creation of the CEO Action President's Circle, expanding its reach to students to foster long-term change as students transition from their academia life to the future workforce.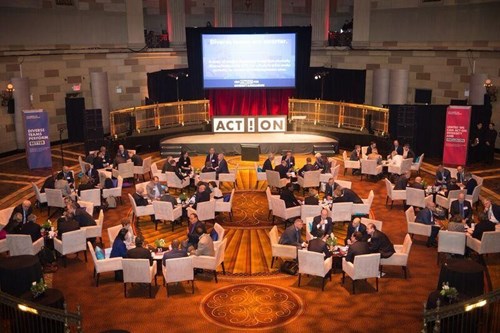 Framed by a diverse set of speakers, signatories engaged in candid, action-based conversations focused on driving momentum towards current pledge commitments and developing practical next steps to drive progress in the year ahead. This included ways to engage more leaders in our collective efforts, increasing the volume of actions on CEOAction.com, and greater engagement with the collegiate community.
Speakers for the CEO Action closed-door session included Andrew Solomon, author and winner of the National Book Award, Professor of Clinical Psychology at Columbia University Medical Center, TED speaker and activist for LGBT rights; Van Jones, founder and president of Dream Corps, CNN Correspondent and author; Kristin Beck, retired US Navy Seal, human rights activist, recipient of a Bronze Star and Purple Heart, and subject of the documentary, "Lady Valor"; Marley Dias, 12-year-old author and founder of #1000BlackGirlBooks; Tanzina Vega, award-winning journalist and Ferris Professor of Journalism at Princeton University; and Ellen McGirt, editor, Fortune Magazine and Executive Editor of RaceAhead.

Read news coverage of the event