First Signatory event at Advertising Week New York 2017
CEO Action for Diversity & Inclusion™ holds first Signatory event at Advertising Week New York 2017
September 25, 2017
New York, NY
"Even though I've been a long time business journalist if I had come to you today and said the corporations are going to save us and they're going to raise the conversation in important ways, take big risks that individuals are sometimes unwilling to take...and hold us all accountable, I would have laughed. But this is where we are." - Ellen McGirt
On Sept. 25th, CEO Action for Diversity & Inclusion™ held its first signatory speaking engagement at Advertising Week New York, the premier event for marketing, brand, advertising, and technology professionals, which reaches more than 100,000 annual attendees.
Capturing the attention of more than 165 in-person attendees and 1M live-stream viewers, signatory CEOs were led in a conversation by Fortune Magazine's Senior Editor Ellen McGirt covering a variety of topics including diversity in hiring, corporate leadership, and how their corporations are advancing the conversation and encouraging action around diversity and inclusion in the workplace.
Demonstrating that our signatories are CEOs and Presidents committed to affecting change, each speaker expressed their sense of responsibility not only to their industries and organizations, but to their employees and society at large.
Watch the full discussion here.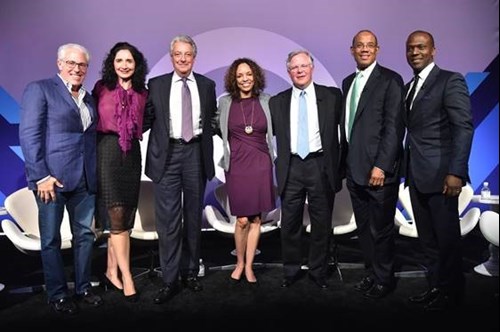 Panelists (L-R): Scott Kauffman, MDC Partners chairman and CEO; Heather Brunner, WP Engine chairwoman and CEO; Michael Roth, Interpublic chairman and CEO; Ellen McGirt, Fortune senior editor (moderator); Clifford Hudson, Sonic America's Drive-In CEO; John W. Rogers Jr., Ariel Investments chairman, CEO and chief investment officer; and Keith Cartwright, executive creative director, Butler, Shine, Stern & Partners and co-founder Saturday Morning Group
Responding to Charlottesville:
"My community needed to hear from me, that my colleagues, and our agency network needed to be reminded that we are human beings first and that there is a place in the world for positive changes that come from challenges." - Scott Kauffman
"Our people needed to know that the organization stood for principles that were consistent with their identity. It was an opportunity to make sure they knew that. How do you instill that in the DNA of your organization to make sure it's not just talk, you're actually doing something about it?" - Michael Roth
Inequality: 
"One of my consciousness raising experience was as a teenager...attending a high school much more diverse than I experienced historically...this caused a very different view of the world, what opportunity meant to different people in different settings and the lack of opportunities that some people had." - Cliff Hudson
Recruiting:
"Diversity attracts diversity. When people see other people like them thriving and growing, it helps promote other diversity within the organization. Focus, take risks, and with that intention you'll create more diversity." - Heather Brunner
Mentorship: 
"People are comfortable coaching people that look like themselves. We have to be honest with that and get that out in the open and get the approved mentorship." - John W. Rogers Inspiring Change: "If there is any super power that we have the ability to do [in advertising], it's to change hearts and minds...so that the people have the ability to actually shift what is going on in the world." - Keith Cartwright