CEO Action Takes Center Stage at COMMIT!Forum 2017
CEO Action Takes Center Stage at COMMIT!Forum 2017
October 12, 2017
Washington, D.C.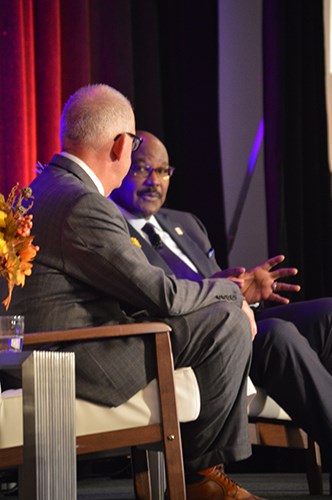 On Oct. 12th, Ron Parker, CEO of the Executive Leadership Council (ELC) and CEO Action for Diversity & Inclusion™ Steering Committee member, shared insights into the actions he and other CEOs are taking to advance diversity and inclusion in the workplace at COMMIT!Forum 2017 in Washington, D.C.

"CEO Action will be having conversations with universities, colleges and students as to what their responsibility will be as leaders as they move out of college and into the world of work...we think we can impress upon them the broader level of responsibility...then we will create a holistic leader entering the workplace in the 21st century." Ron Parker, Executive Leadership Council
Highlighting a number of key milestones since the initiative's launch, Ron touched on the expanding number of 330+ CEOs who have signed the pledge, the nearly 350 D&I actions that have been submitted to the website, CEOAction.com, and the launch of a campus mobile tour, which visited five universities across the country to help students "Check Their Blind Spots."
During the conversation, Ron took a moment to examine the broader view of diversity within the leadership ranks. Emphasizing the importance of CEO Action and the need for more diversity and inclusion among CEOs, Ron reminded the audience that African-Americans represent fewer than 2 percent of all Fortune 500 CEOs. To help increase the number of global black executives in C-Suites, on corporate boards and in global enterprises, Ron highlighted the work of the ELC, which includes the development of  the CEO Academy, where African-American CEOs mentor current leaders to build an inclusive business leadership pipeline that empowers global black leaders to make impactful contributions to the marketplace and the global communities they serve.