Addressing the analytics skills gap in today's workforce, and in the next-generation workforce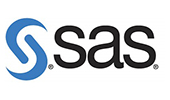 Addressing the analytics skills gap in today's workforce, and in the next-generation workforce
Challenge
The STEM-related skills gap is real and it's becoming increasingly difficult to find qualified candidates for highly-technical roles, and even harder to find a diverse pool of qualified candidates. Companies should do more than recruit diverse talent, they should help create it.
Actions
SAS has multiple recruiting and developing initiatives to increase diverse talent such as:

Existing Workforce: SAS' R3 Program (Recruit, Retain and Recognize) recruits from various universities nationwide to attract women and minorities into technical roles. Through technology and analytics, diversity is a focus when considering what schools to recruit from. SAS uses analytics to ensure diversity is a focus when determining where to recruit.
Other recruiting efforts include: the Historically Black College and University (HBCU) Career Development marketplace; a SAS-hosted STEM Career Day with NC Central University and Shaw University; local events targeted at female STEM students
Developing: SAS Academies provide intensive in-class and on-the-job training focused on core SAS and emerging technologies. 
Developing next generation analytic talent: Early literacy is the foundation for building a highly skilled workforce and SAS is working to eliminate unintended inequities in education, starting as early as pre-school.  Efforts to build the next generation of diverse talent include: 
Developing software to help eliminate school bias that prevents minorities from having access to advanced math courses necessary to obtain STEM-related skills.
SAS CEO Jim Goodnight leading a Business Roundtable task force to influence policy recommendations for states to:
Expand access to high-quality pre-K.
Use student assessments and data systems to track student progress.
Create a comprehensive, coordinated pre-K through third grade governance system.
Offer SAS Curriculum Pathways (interactive, standards-based resources in core disciplines (k-12).
Outcomes
Fortune: Best Workplaces for Women
Fortune: Best Places to Work for Recent Grads
Vault: The 50 Best Internships
Graduates complete the program with multiple SAS certifications. 
Increased diverse SAS work population; millennials (35%); women in technical roles (30%)
Goal: increase third grader reading skills because they are much more likely to seek post-secondary education which will increase the next generation diverse pool of talent.
We all play a part in working together to provide opportunities and create environments that are positive and supportive – as individuals or as a company. When diverse minds collaborate, the outcomes are truly transformative.
Get In Touch
Learn more about what organizations are doing to act on diversity and inclusion.
Contact Us